I had a real "aha" moment recently when taking my 5-year-old grandson, Eli, out for the day. We pulled into the garage to get petrol when he asked: "Grandma, why do we need to get petrol?" "Well," I said, "if we don't have fuel, the car can't go and we'll be stuck here."
In that instant it hit me – overwhelm is exactly the same. If we run out of energy and vitality – life's fuel – we can get stuck, unable to move forward. (How interesting that the big things in life can seem so simple when we explain them to a child.)
To continue with the car analogy, we know If we get stuck on a dusty country road without fuel we might either: cry, throw a tantrum or have to make a much bigger effort than we anticipated (walking a long way… usually in very unsuitable shoes).
But somehow, as women, when we're feeling overwhelmed in daily life we seem to either: ignore it, or push those feelings aside (as though it's a normal part of our day), or believe there's not much we can do about it.
We're almost like ducks seemingly gliding over the surface, but, beneath the water, we're furiously moving already exhausted legs. When we do this for too long we can feel like were running on empty, feeling stretched and almost at breaking point.
Sound familiar?
I've worked with many women experiencing overwhelm. One beautiful client, Jill, told me that when she felt overwhelmed she felt like a huge wave was breaking over her, swamping her and rendering her paralysed.
The problem is that if we are feeling constantly overwhelmed, we'll end up feeling depleted, low on energy and unmotivated,
If we don't do something about overwhelm – it can be the start of a personal energy crisis
The fact is that constant overwhelm if left unattended, will create a personal energy crisis. It will suck the life and vitality out of us and could lead to even worse physical or mental health issues.
That's exactly how it was for Jill. She had a very busy and senior role at her work and at home she had a husband and two young children who, of course, wanted her attention. When we met she felt her life was like a pressure cooker with constant deadlines and commitments. She was exhausted, feeling very low and experiencing a lot of negative thoughts.
She felt constantly drained – like a bucket that never, ever fills up – because it has holes in it.
As we talked I found that her overwhelm and exhaustion were caused by things that many of us experience such as:
Constant worry – when Jill was at work she was worried she wasn't performing well enough. Then when she was at home she was worried she wasn't being a good enough wife or mother
Other people's expectations – she had a father who had had very high expectations of her since she was a little girl. In her late 30s, she was finding that living someone else's script for her life was wearing very thin
Over-commitment – Jill simply had too many commitments every day. She felt she was always letting everyone down (especially herself)
Losing Yourself – Jill felt she didn't know who she was or what she wanted anymore. She'd somehow lost herself amidst all of the roles she had to play
Low Energy/Vitality – Jill's energy had hit an all-time low. In her 20s Jill had gone running a few times a week and also a regular night out once a month with her girlfriends. In recent years she'd stopped running and hadn't caught up with her girlfriends in months – because she was just too tired.
"I've had enough of this overwhelm – How can I stop feeling this way, right now?"
This was one of the first questions Jill asked me when we met. And I'm guessing it's a question you might have if you are reading this blog right now.
My short answer is that you need to firstly ditch overwhelm and then get fuelled up, or as I call it "revitalized". So how do you ditch overwhelm?
The starting point is to get calm
The starting point is to get calm. In our already busy lives, the simplest and fastest way to get calm is to connect to our breath. It has been said that the breath is like the thread to life. Learning the correct breathing technique can be your bridge to calm.
Breathing calmly is also one of the most immediate and powerful ways to get calm when you are feeling extremely stressed or overwhelmed. You know those times when you are feeling like a deer in the headlights and don't know which way to turn?
Will breathing solve all of a life's challenges? Well not just by itself, but what it will do is get you into a state where you'll be able to get into the present moment and think more clearly, so you can make a better decision about whatever is in front of you at the moment – be it a demanding boss, or a hungry, crabby child… or husband.
Using breathing to calm down is your instant starting point to break the cycle of overwhelm.
How to breathe correctly?
If you'd like to learn how to breathe correctly, beat overwhelm and get your life back download my free 5-minute guide: Ditch Overwhelm – 2 Simple Steps to Create Calm, Boost Your Energy, Anywhere, Anytime.
The technique I teach in Ditch Overwhelm has helped Jill and the hundreds of other women and men that I have worked with.
Ditch Overwhelm is also the first step in my Revitalize You program, which helps women, feel happier, more energised and more balanced.
As you download Ditch Overwhelm I wish you luck in using it to create some more calm and energy in your life right now.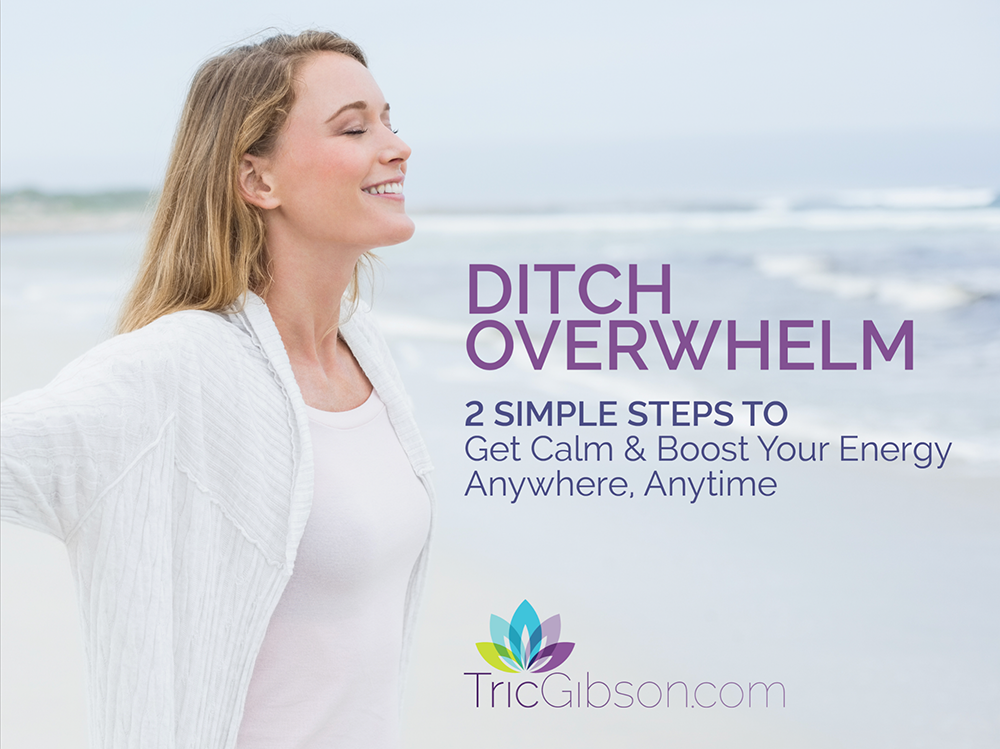 Want to reduce overwhelm and start feeling more energy now?
Download our free 5 minute guide: Ditch Overwhelm – 2 Simple Steps to Get Calm and Boost Your Energy, Anywhere, Anytime